What are the three most meaningful things you have learned during this course?
#3, #6 and #8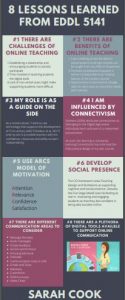 What was the most surprising and/or unexpected thing that you learned through this course?
I had more experience with online teaching and strategies than I realised.
How does what you learned connect with what you already knew?
#1-8
What will you do with what you have learned? How will you apply what you have learned to your teaching and learning practice?
It will help me resign my course and improve the quality of instruction, engagement, and communication.