Technology Help
In the UK I barely used technology other than PowerPoint and YouTube to support lessons. However, with my current job I was really thrown in the deep end and had to learn a lot of technology and fast. This past year alone I have to learn and use effectively Blackboard, Moodle, Gsuite, Google Classroom, Zoom, Canva, Piktochart, Weeebly plus about another 15 or so apps that students 'may' use.
Strengths
I have proven myself to be a quick learner and am now so much better at critically evaluating which EdTech to use for certain skills and activities. Also, as my familiarity with these tools have increased, I have been able to give students an option of suitable EdTech for each assignment which has helped with their confidence in digital literacy as well as working as a great time management tool.
Problems
EdTech moves so quickly that I fear that as soon as I have learnt something, it is already outdated. Trying to 'stay on top' is impossible so it is important to focus on EdTech that will allow students to "navigate and communicate in different digital environments" ( University of Derby. (2014, November 5). Digital literacy and why it matters [Video file]. Retrieved from https://youtu.be/p2k3C-iB88w  ). That has involved pre-planning, trying out the apps and producing examplar to demonstrate to students.
Another 'problem' I faced was assuming that students knew more than they did. An initial poll had students claiming that as 'millennials' they were always on computers however it quickly became apparent that this was not synonymous with 'digital competence'. So finding tie to teach the new apps and EdTech in an already packed curriculum was another issue to overcome.
Tips
Practice and watch Tutorial Videos. I found watching the videos on my PC whilst simultaneously trying it myself on my laptop really helped. Also setting a limit of '15' minutes of experimenting worked as I spent far too much time getting lost in different EdTech!
With new apps, make the exploration of it a classroom activity. When I used Piktochart for the first time (we stumbled across it in a lesson) I asked the students to spend 10 minutes 'having a play' and then we took feedback and shared how to use it and what assignments it might suit. It took the pressure of me and was a really organic and collaborative learning experience.
If you use GSuite  I found the following video really helpful in understanding how to use Google Sites. I asked students to watch this before we did a practice activity and encouraged them to use it as a point of reference throughout the remainder of the course.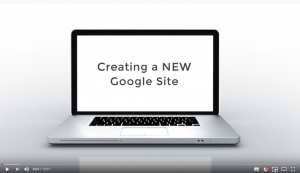 Whenever a new app or tool is used in lesson, I always model how to use it (along with evaluating design features for the intended audience) before passing it over to students. Or, as stated above, we explore it as a class and give feedback as a group.
Now that I have moved exclusively to Google Classroom I have provided a 'Quick Links' doc at the top of the course with links to all of the apps that we might use throughout the course, Students are encouraged to have a look at them when they have finished work and get used to the range of tools available to them. Students have also added links to other tools that they have used or stumbled across in their learning. Next to each tool are very brief ideas about where these tools may best suited (feedback collated from the previous class). I am also in the process of getting students to create very short tutorials for each of the apps/tools using screen castify or creating a slidedeck. These will also be pinned to the top of the course for easy access.
Utilize your district's Learning Technology Department. We get monthly newsletters with tips and hints as well as access to online tutorials walking us through 'How to Use' certain applications.
References
University of Derby. (2014, November 5). Digital literacy and why it matters [Video file]. Retrieved from https://youtu.be/p2k3C-iB88w