What Do You Think About Digital Literacy?
Activity: Students have been working on networking and creating their 'brand'. In preparation for an up and coming panel interview with a member of the community, students will design their own business card to present at the interview.
How does it develop digital literacy?
In order for students to 'thrive' in a digital culture, students will be taught how to use select tools that will best enable them to market themselves in a positive manner whilst supporting their brand. Students will cover the following:
Research and Information Fluency– students will research and evaluate existing business cards and evaluate their effectiveness including new technologies such as QR codes as well as understanding the different purposes and contexts of digital image editing.
Creativity and Innovation– evaluating the tools to present themselves in a professional manner whilst promoting their brand. Consider how culture is produced through the Internet and social media in particular- looking at ways to make their brand more accessible (links to Linkedin etc).
Critical Thinking, Problem Solving and Decision Making- A time bonded task, students will need to decide what 'relevant' information they will include and which tools and design will best represent their brand.
Communication and Collaboration– Peer assessment will help students to evaluate the effectiveness of how their brand is communicated to the audience.
Digital Citizenship– learning to communicate and collaborate safely (no personal emails or cell numbers, links to Gsites that are secure and permission needs to be requested etc).
Tech Operations and Concepts-has reasonable knowledge of available technologies, their strengths and weaknesses, and is able to make informed decisions about whether and how to use technologies
to pursue personal goals.
Using Mozilla's Web Literacy tool the outcomes for this activity were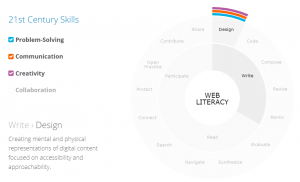 References
Mozilla. (n.d.). Web literacy. Retrieved from https://learning.mozilla.org/en-US/web-literacy
Province of British Columbia. (n.d.). BC's digital literacy framework. Retrieved from https://www2.gov.bc.ca/assets/gov/education/kindergarten-to-grade-12/teach/teaching-tools/digital-literacy-framework.pdf
Province of British Columba. (n.d.). Digital literacy. Retrieved from https://www2.gov.bc.ca/gov/content/education-training/k-12/teach/teaching-tools/digital-literacy