Experience of congruence: Description of a good or bad example
Google Certified Educator Level 1
Last year, in order to develop my expertise in Google, I took the Google Certified Educator Level 1. I found this to be a good example of congruence in education. From the onset it clearly explained what the course was, who it was aimed at and how it could be assessed. It divided it into 3 easy steps: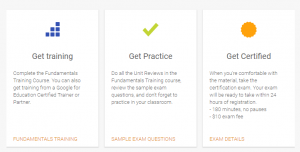 Training
Welcome to Fundamentals training. By reading, watching videos, and doing activities, you'll learn how to integrate Google in your classroom. You can start and stop lessons at any time; we'll track your progress through the course. At the end of this course, you'll be ready to take the exam to become a Google Certified Educator Level 1.
There were 13 units to cover and when training had been completed, it was easy to see what had been assessed and keep up to date with progress.

Practice
After the training there were sample exam questions to complete.
Get Certified
Once you were confident with applying these skills in the classroom, you were invited to complete the test.
Overall I found the whole experience really clear, easy to follow and the training enabled me to apply these skills to my own practice. Trialing things in the classroom and then being assessed on their use and practical implications was extremely transparent and linked to the outcomes from the start.