Twitter

I will be honest and say that I tend to use Twitter for entertainment; finding out about my favourite TV shows, Movies and authors. When I get home I like to switch off and so 'education' hasn't been a focus of mine for using Twitter.
My friend in England is an avid tweeter and has amassed a huge following. However, due to the nature of the tweets, this is a weird hybrid educational/social platform. Tweets can be psychoanalyzing Hamlet one minute and then followed by a rant about the in-laws and their poorly made cup of tea (which is a very valid moan!). I like to keep my personal and work life separate- on Facebook it is purely social. That is why I quite the idea of the 'Tweet Chats' as they stay on topic and are moderated.
Tweet Chat
I am much more of a 'lurker' (Lalande, 2012) and like to read other's ideas rather than comment. Although I usually have lots of my own ideas, blogging and tweets just aren't my 'thing'- I tend to find it all a bit 'cliquey' and people can be so 'holier than thou'. However, I appreciate that in order to fully engage and benefit, I need to contribute more to the discussion.
I decided to follow TES (Times Educational Supplement) as it is a institution that I am familiar with from the UK and I will know the topics more than some of the suggested Canadian ones.
I started with an easy one..'You should become a teacher because…' I gave my answer as 'No 2 days are the same but every day you have made a difference'. I can see why these tweet chats are effective- they are easy to skim read and comment on individual tweets. Also, if there was a particular area that you were interested in or wanted to research, this would defintitely be a useful tool.
For me, I just find the whole 'retweeting' what someone else said a bit pointless. By all means, save it and do something with it but just retweeting seems like it is more for 'show' (Guess what so and so said) as opposed to actually taking that and moving the idea forward.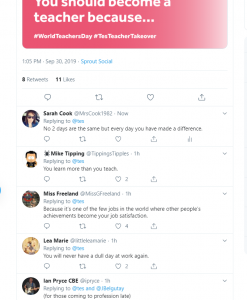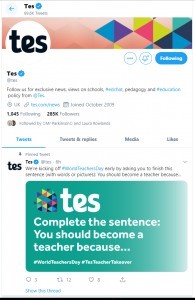 I will definitely aim to look into twitter chats again but will only comment on questions that really grab my interest. I will probably remain a 'lurker' and thank those more active than me for sharing!
You can follow me @MrsCook1982
Reerences
Lalande, M.-A. [DevPro PD Flipped]. (2012, October 18). What is a PLN – Marc-André Lalande's take [Video file]. Retrieved from from https://youtu.be/hLLpWqp-owo