The tech tool that I have decided to review is the BMO Digital Banking Demo. I hope to use this to support my teaching of financial literacy. I used all of the questions we generated in the discussion forum and reach my conclusion.
This tool would be suitable to break up the unit and offer students bite-size and personalized demos to students. 93% of students I teach currently use online banking and only 43% use it for more than checking their balance. By showing students how to set up payments, download statements or change their address in a secure and private setting, it will give skills the confidence to do this themselves with their own online banking when the time comes. Likewise, the focus would be on developing confidence to manage their finances so reaffirming how to check for balances, monitor payments and change dates as well as setting up regular payments (for savings) will help offer students some potential strategies for the future.
Evaluation
Does the tech need additional plug-ins – eg Java? NO
Is there a way for the students to use the tech outside of the class if they miss the class, or do they have to be in class to use the tech? They can access the demo anytime providing they are connected to the internet.
Is the tech ready to use, or does it require individual student accounts and a class account? Ready to go- just a simulation so no sign in required.
Do the students need a lot of support before they can use the tech independently? No, they follow the red circle and follow the 'walk through' simulation'
Does the tech activity need to be completed in one session, or can it be broken down into shorter sections? There are 26 demos for online banking and 14 for mobile banking so these can be spread across the unit or particular demos selected according to the learning objectives and needs of the class.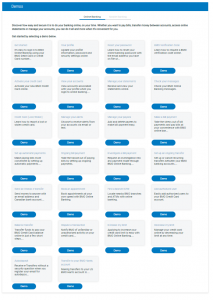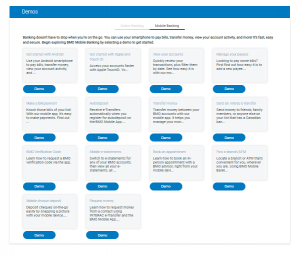 If it is a simulation, is it possible to speed it up or slow it down? The user follows the red circles and controls the pace.
Does the digital tool allow students to use their school email address to sign up? No email address or sign up needed.
Does the digital tool allow students to save/import or embed their work? Students could use Screen Castify to capture their participation in using the tool.
Does the digital tool allow students to develop transferable skills? Yes. Self-awareness (selecting demos appropriate to own needs).
Does the digital tool allow students to engage in authentic, real-world learning? Yes It shows students what the app looks like, how it works and guides them through real-life examples. This is safer than using a 'live' bank account.
Does the digital tool allow students to manage their own account? N/A
Does the digital tool allow students to collaborate/Network with others? No.
Is the technology savable?   No progress shown. Students could use Screen Castify or take snips for evidence of use.
Is the sign-up easy?   No sign up needed.
Is it user friendly?  Simple to use and easy to follow the red circles.
Is it age appropriate?  Yes. 
Are there clear learning outcomes? Yes. It states:     
Is the tool adaptable for different learners? No. The screen can be increased for visually impaired and the language can be changed to french.
Is it a one time tool or can it be used multiple times? Unlimited use
-Is it time effective? Yes. Each demo is really short.
Is the tool safe for the age group? Yes. Simulation only and no sign up or personal needed needed.
Does the tool support targeted learning outcomes? Yes. Students to develop confidence in using tools to manage their finances.
Is the tool accessible to all instructors and learners? Yes. Visually impaired can make the web page larger, language can be changed to French. Designed for visual learners. Can be self-paced.
Does the tool cost money to use, and if so, how much. Free.
Does the tool require users to create accounts, and if so, does this process meet privacy guidelines. No sign up required.
What instruction or training is necessary to use this tool. None. Follow the red circles to complete the 'walk through' demo.
Does it promote inclusion?  Combination of visuals and text. Coloured circle. Easy to read font with readable interface.
How to justify or design its use for meeting goals and objectives in an Individual Education Plan? Yes. Free to use, self-paced and allows students to practice accessing tools to manage their finances without offering up personal information. Safe and appropriate to age.
How to verify accuracy/reliability of info? If there is no school or district criteria, how to ensure this? No. Comes from BMO so an official organisation. Scanning through the info, there is nothing political or bias. Factual info demonstrating a process.
Is there equitable/fair access for all. Access to the internet required.
What if a child/student does not have access to a computer. Unable to use this interactive demo.
What if they do not have a social media account? (parents won't allow, don't have a device..etc). Not needed.
Has safe use of internet social media been considered. Yes. N/A
How much pedagogical knowledge/understanding is required for safe/effective use of the technology/media – None. Self explanatory- follow the red circles and it guides you through the virtual demo.
What are the professional development opportunities around this? N/A Teachers will want to scan through the interface first in case it differs from their online banking institution.
How can it be managed and controlled by educators. No sign up required, no politics or bias. Could check to see if other banks provide these tools and compare.
If a student decides to explore a question or conceal further, how does the educator remain involved. There are a total of 40 different demos. If a student selects a question that is not on the demo, the teacher can support the student to locate this information elsewhere.
How to ensure fairness in assessment when someone students have had more exposure, practice and experience than others when it comes to using technology and media. N/A students will be selecting the demos that are relevant to their use and so will not be compared against others. This isn't measuring a product but understanding of a process.