Second Life
My initial thoughts trying to 'explore' this Tech Tool
Downloading second life was easy enough but very slow.
Due to restrictions on the school computers, students would not be able to do this themselves. That would mean having to put in a work order for Tech Support to install this on all school computers across the whole district which would be very time consuming.
I am 'not good' at these sort of games and I found walking to different locations very time consuming. I just wanted to double click and be there already! I kept walking into walls and going in circles! If it's not Mario, I can't play video games! Thankfully my 9 year old helped me out. This could be a problem for students using this tech tool at home as a teacher would not be there to support them (although there would be tutorials or Screen Castify videos to support).
The flying got on my nerves-I am not sure what the point was. Was it to speed it up?
I like that there is a 'chat feature' on the screen. This could be a really useful tool if using with students to develop collaboration and communication.
To be honest- I am totally out of my comfort zone and have no idea what I doing!
So I 'chatted' with someone nearby. I get embarrassed with this kind of stuff because I don't know is this person is real or a bot! Turns out they were real! Pretty cool that they don't speak English but was using a translator to speak with me.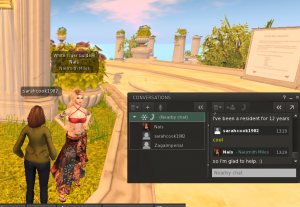 I had to do a camera task and just couldn't get the hang of it. Frustratingly, you had to have a mouse to complete this. This could be problematic for students using this resource at home as many have laptops and, like me, don't use a mouse. Luckily, I had one from work so was able to plug it in and go.
Then the server was rebooting so I got logged out.If this was a regular thing this could be disruptive.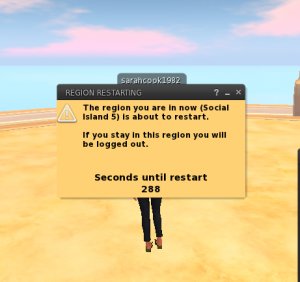 After logging back it wanted to install a new update- yet again more time wasted. I would worry about using this as a tool if this was a common occurrence.
Although I could see many great opportunities, at the moment not many were linked to my current subject. I took a visit to The Globe Theatre and enjoyed the use of music and sound to contextualize the experience.
I then had a go at trying to focus on a 'career' opportunity that Grade 11 students might enjoy but found this really difficult to find.
I could definitely see how using something like this would potentially engage students and offer them an alternative tools to learn and develop skills. However, I think this is better suited at younger children. I am not convinced this is something I would use in my own teaching. This would work well as an enrichment or independent learning activity but not something that I would really use myself.