Exploring Digital Solutions- Assignment 3
CONTEXT
Upon evaluating the course at the end of last academic year, student feedback revealed that more experience with financial literacy was needed and the activities needed to offer real-life skills and authentic learning experiences. 

The Digital Communications Department teaches the blended DC/Careers 11 course to all Grade 11 students in the district and so the new unit needs to recognize the differences in socio-economic

background of these students and the differing experiences and relationships they have to money as a result.
I have used the first 2 parts of  The University of British Columbia's draft planning tool (University of British Columbia, 2012) to help me complete this assignment.
PART 1: DEFINE

What I  would like the unit to develop:
"P

ersonalized, place-based learning, where learning experiences are adapted to the local environment or an individual context" (BC's New Curriculum, n.d). 

Concept-based learning to engage students in authentic tasks that connect learning to the real world. 

Incorporate First Peoples Principles of Learning by nurturing cross-generational and relational learning in the form of collaborating with community members
What I want the students to learn:
I can identify the potential expenses associated with daily life
I can demonstrate my ability to create a balanced budget to prepare for current and future goals
I can reflect on how my personal choices will impact my financial position
Personal Awareness and Responsibility
Critical Thinking
Bates states that  "intelligent application of technology provides opportunities for students to learn in different ways " (Bates, 2015, pg 269) and so I am hopeful that integrating a range of digital tools will help achieve this goal.
PART 2: ASSESS
TOOL 1- EVERFI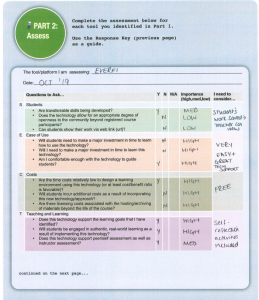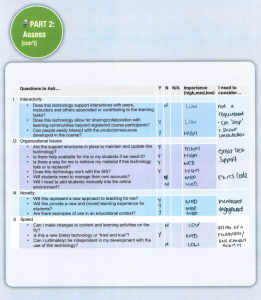 I tried to follow Fisherman's (2016) advice and be aware that engagement drops off after 6 minutes however as there is hardly any drop off for videos of 6-12 minutes, my video of 6.42 should not affect engagement for videos of this type of length and content.
TOOL 2- CANVA AND GOOGLE SHEETS
Canva and Google Sheets SECTIONS analysis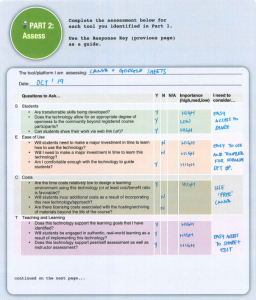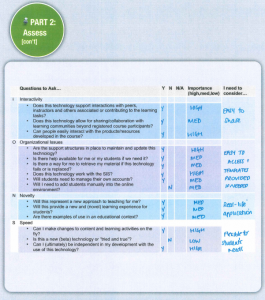 WHAT NEXT?
One of my goals was to incorporate First Peoples Principles of Learning by nurturing cross-generational and relational learning in the form of collaborating with community members. I am hopeful that during this unit students will share their work with family and members of the community to help strengthen their support system. By sharing budgets, meal plans and even tips and strategies learnt from EVERFI, students will hopefully experience learning that "involves generational roles and
responsibilities." (Classroom Technologies and First Peoples Principles of Learning, 2018).
CONCLUSION
Overall I found it really useful to use the SECTIONS model to help me critically evaluate potential tech tools. The checklist, which can be printed off and filed for off-the-cuff evaluations, was a quick and easy way to generate initial thoughts and ideas. By focusing on which tool best fits the criteria I set, I was able to find much better and embedded uses for some of the other tech tools that were also considered but did not make the cut. I am really looking forward to engaging the students with some varied technology- all of which is simple to use and does not require specific software other than the internet.
I loved that everything in EVERFI was self-contained and lessons were short (20 minutes) so offered an interactive and bite-sized authentic learning.  This tool does not replace the course but offers some extended and independent learning opportunities.
Since the data processing is done in the cloud, "the user no longer needs a powerful or expensive desktop computer" (Richards, McGreal and Stewart, 2010) and so Google Sheets is more widely available to more students than Microsoft Office, Plus, it is used exclusively in the district so students are familiar with it and using their G Drive to access documents. By utilizing the cloud feature of the tool, students have increased access to this resource- on PCs, chromebooks, tablets and cell phones. They can even use it offline and do not need to be logged into the school's server to access their work.
Finally, Canva has provided opportunity for students to use tech tools to support their learning rather than be consumed by them. The user-friendly interface and plethora of templates, added with the auto save feature and ease of sharing, makes this a great tool for students to apply their skills in a practical and authentic way.
References
Bates, A. W. (2015). Chapter 8: Choosing and using media in education: The SECTIONS model. In Teaching in a digital age:  Guidelines for designing teaching and learning. Vancouver, BC: Tony Bates Associates Ltd. Retrieved from          https://opentextbc.ca/teachinginadigitalage/part/9-pedagogical-differences-between-media/
 BC's New Curriculum. (n.d.). Retrieved from https://curriculum.gov.bc.ca/curriculum/overview 
Classroom Technologies and First Peoples Principles of Learning. (2018, July 25). Retrieved October 16, 2019, from https://www.setbc.org/2018/07/classroom-technologies-and-first-peoples-principles-of-learning/.
Fisherman, E. (2016, July 5). How long should your next video be? [Web log post]. Retrieved from https://wistia.com/learn/marketing/optimal-video-length
Free Online Resources for Teachers: K-12 EVERFI. (n.d.). Retrieved from https://everfi.com/partners/k-12-educators/.
Richards, G., McGreal, R., & Stewart, B. (2010). Cloud computing and adult literacy: How cloud computing can sustain the promise of adult learning . Retrieved from http://hdl.handle.net/2149/3037 (CC BY 2.5 CA)
University of British Columbia. (2012). Assessing technology using the SECTIONS model. Retrieved from https://wiki.ubc.ca/images/1/19/SECTIONS_Framework.pdf (CC BY 4.0)