Diffusion Simulation Game
Write a short post on your portfolio that describes:
Your experience playing the game.
Very long winded and frustrating!
Lots of options, it was hard to keep track of what I had and hadn't tried
Often found myself speaking to the same person over and over again with different tactics
How many times did it take before you were happy with the number of teachers and staff you convinced to adopt a new technology?
After the first game I managed to get 6 adopters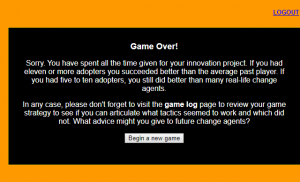 For my second attempt I went straight to finding out about people, repeatedly talking to them before I tried to implement anything. For the second go I managed to get an adopter much quicker but still only got 6 adopters.
What strategies worked for you?
Finding personal information about staff
speaking to the secretary and janitor
getting a staff member on board
checking in with the principle and arranging a presentation
site visit
Did you learn anything from playing the game that will influence how you approach integrating technology in your own practice? In your Technology Integration Activity project?
Yes. You have to make the small talk, make personal connections and understand that there are lots of processes and red tape to conquer before you can implement something. Starting small, getting someone on board (so they can see the relevance) so that they can they spread the word is a good strategy. Rome wasn't built in a day and you just need to keep chipping away, making meaningful connections with staff and raising the profile and exposure of the technology you wish to integrate to increase its chances of being well received.