Welcome Video
Here is my very quick attempt at a PowToon Video
How I created my video
I simply used a template and edited the text to suit my content. I had to snip down each frame as they were 15-20 seconds each which was too long for the content I included. I personalized it by uploading my own images of the internet. It forever to download as an MP4 file although other options were available. It could be uploaded directly to Facebook or YouTube if I ever wished to have a class one.
What I liked about it is it can also be downloaded as PDF or PowerPoint which will help make this resource more inclusive.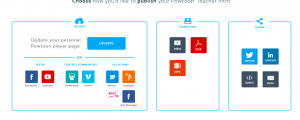 Where I see myself using this video
I would not use this type of video/content with my current class but think that Powtoon is a useful tool to summarize information in a fun way. If I taught elementary of lower middle, I would definitely consider emailing this out over the summer. My Grade 11s would find this 'lame' and as it was fiddly and time consuming, I would rather just record myself for 30 seconds so that students can see my face, hear my voice and feel some familiarity when they finally meet me online or face-to-face. This will hopefully reduce the Transactional distance perceived by students too.
Suggestions for increasing teacher presence in my own context.
Personalizing content- include my 'real-life' examples so it is concrete and hypothetical. Plus they see me as a human not a robot on the other side of the screen
Use screencastify or another type of video capture to include my voice as I guide them through areas they have identified as needing more support in.
In Google Classroom, use my profile picture rather than an avatar
Lateral Thinking Puzzle/ 'Random Fact of The Day' at the start of lessons to get students talking and interacting prior to learning
Summary word clouds based on student's learning in the unit