Online Teaching Philosophy
Guide on the Side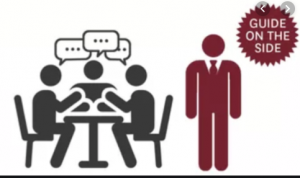 As an online educator I assume a multidimensional role (Bawane and Spector, 2009) which consequently demonstrates lots of different competencies. The integration of these competencies have allowed me to view my role an an online educator as 'Guide on the Side'.
As a constructivist, "I tend to use technology that supports the development of 21st century skills" (Tondeur et al, 2017) and my aim is provided learners with the confidence, resources and ability to learn independently. In order for this to be embedded, I demonstrate and model skills and expectations, provide tutorial videos and quick links as well as F.A.Q to promote more active learning.  By scaffolding the learning into bite-sized chunks with clear instructions, learning objectives and success criteria, students are able to use me more as a mentor/ support system  than a holder of knowledge.  I place a strong emphasis on learners "developing personal meaning through reflection, analysis and online collaborative learning" (Bates, 2015, pg 54) to personalize the learning experience for each learner.
References
Bates, A. W. (2015). Teaching in a digital age: Guidelines for designing teaching and learning. Vancouver, BC: Tony Bates Associates. ISBN-13: 978-0-9952692-1-7
Bawane, J., & Spector, J. M. (2009). Prioritization of online instructor roles: Implications for competency‐based teacher education programs. Distance Education , 30 (3), 383-397.
Tondeur, J., van Braak, J., Ertmer, P., & Ottenbreit-Leftwich, A. (2017). Understanding the relationship between teachers' pedagogical beliefs and technology use in education: A systematic review of qualitative evidence. Educational Technology Research and Development, 65(3), 555–575. doi: 10.1007/s11423-016-9481-2