Instructional Design Model Review
The course I am auditing, Shakespeare's Life and Work, uses elements of Gagne's Nine Events of Instruction (1965). Below are a few examples of how this is demonstrated in the course as suggested by Arshavskiy, M (2016).
Gain attention of the students
During the introduction stage, learners are asked to share their own experiences with Shakespeare. This includes a poll which focuses on how recently the learner has explored a Shakespeare play and a word cloud identifying the top 3 words associated with Shakespeare. Learners are able to see the results and this will 'stimulate their attention' (Arshavskiym, M, 2006).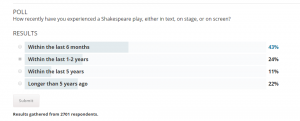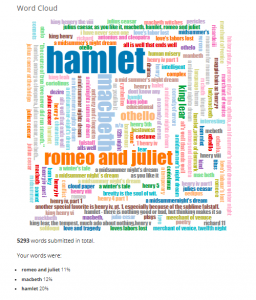 2. Inform students of the objectives
At the start of the course, learners are introduced to the course objectives, the types of assessments and activities they will complete as well as the minimum standards and assessments weightings.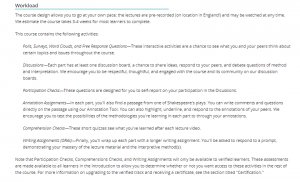 I think this model was chosen due the variety of learners enrolled in this MOOC course and the range of experience in taking an online course.

This design decision impacts the course as it starts very gently but with clear expectations allowing the learner to understand exactly what the rest of the course will look like. I think this is really useful as it takes away the fear of the unknown and allows learners to feel in control of their own progress. The minimum expectations are made explicit and the introduction activities allows learners to reflect on their previous knowledge,  explore ideas from their peers and build a sense of community and connection with their fellow learners.
References
Arshavskiy, M. (2016). Leveraging Gagné's nine events of instruction . Retrieved from https://elearningindustry.com/leveraging-gagnes-nine-events-of-instruction
Gagné, R. M. (1965). The conditions of learning and theory of instruction (1st ed.). New York, NY: Holt, Rinehart & Winston.