Information Architecture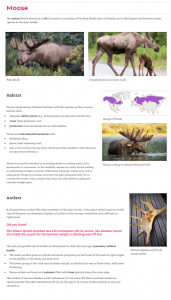 You can click on the image above for a larger view.
In order to format the information for more effective communication and ease of read, I followed the principles of Text Design for Online Learning (Webster, 2018) as well as Selecting, Organizing and integrating relevant content.
To begin I scanned through the information to ensure that it was all relevant. I used a title 'Moose' to clearly label the page and underneath added an informative description of what a Moose is: The moose (North America) or elk (Eurasia) is a member of the New World deer subfamily and is the largest and heaviest extant species in the deer family.
To contextualize this further I added 2 pictures: one of a Male (bull) and the other of a Female (cow) and Infant (calf). I used left-aligned captions to anchor these images.
Underneath these images I used a sub-heading 'Habitat' and used bullet points to break up and chunk the information.  I used bold to highlight cold-adapted mammals with the ideas that this would be linked to a glossary.
I ensured that the longest paragraph was only 4 sentences long and added an image of a moose cooling off in the water to support this image. A left-aligned caption was also provided.
Underneath this section I repeated the same, consistent formatting and used a sub-heading to introduce the second section  'Antlers'.
I used a call-out (using pink coloured font to provide a distinct contrast) to physically interrupt the text and provide some additional 'fun facts'.
Underneath this I used 3 bullet points to break up the descriptive information about antlers and used bold to highlight some key words.
Next to this writing I added an image of a Mature Alaskan adult bull moose antler and left-aligned the caption.
References
Webster, K. (2018). Text design for online learning. In, EDDL 5131 Multimedia in the Curriculum [Online course]. http://courses.olblogs.tru.ca/eddl5131-jan18/week-2-text/text-design-for-online-learning/