Learning Objective: To explore my digital footprint and evaluate the impression this creates.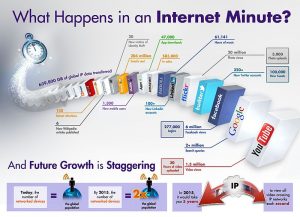 This image was found by searching for images labelled for 'reuse' and was found at https://commons.wikimedia.org/wiki/File:Internet_Minute_Infographic.jpg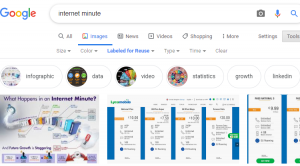 Explanation
In this lesson, students explore what a digital footprint is and what their digital footprint suggests about them. This graphic summarizes what happens globally  in a typical minute on the internet.
The communication function of the graphic is relational; it communicates quantitative relationships among two or more variables (Clark, R.C & Lyons, C, 2010). It support psychological events of learning ( Clark, R.C & Lyons, C, 2010)) by:
directing the learner's attention to the important information in the lesson (in this case what contributes to a digital footprint)
Activating prior knowledge (students will be familiar with some of these ideas)
Manages mental mode by succinctly summarizing the content
Motivate learners to complete the learning goal as it is quick to scan for knowledge
It will also support the learning objective as it is an efficient, precise and clear way to communicate than oral or text alone (Dunlap  J.C & Lowenthal, P.R, (2016). Students are able to easily scan the text and ascertain what typically happens every minute on the internet. This graphic will support the attention of the learner nu minimizing their cognitive load and building schema (in this case, the logos of well known digital sites) known to learners (Clark & Lyons, 2010).
I believe that the image establishes immediacy and coherence.
I would modify the graphic by posing the question 'What sites do you visit regularly'? This will increase the malleability of the image by encouraging the learner to interact with it.
I may possibly modify the graphic to include more student-user websites such as the example below. Alternatively, I would encourage students to track their habits and history and produce their own personalized 'This is My Digital Footprint over The Past Week' Infographic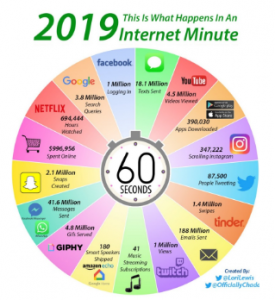 References
Clark, R. C. & Lyons, C. (2010). Three views of instructional visuals. In R. Taff (Ed.), Graphics for learning: Proven guidelines for planning, designing and evaluating visuals in training materials (2nd ed., pp. 15–28). Pfeiffer. http://site.ebrary.com.ezproxy.tru.ca/lib/trulibrary/reader.action?docID=10469757&ppg=37
Dunlap, J. C. & Lowenthal, P. R. (2016, September 8). Getting graphic about infographics: Design lessons learned from popular infographics. Journal of Visual Literacy, 35(1), 42–59. https://doi.org/10.1080/1051144X.2016.1205832
What happens in an internet minute? Intel Free Press (company),  (2011) Retrieved from: https://commons.wikimedia.org/wiki/File:Internet_Minute_Infographic.jpg