Learning Outcome: To research and explore typical features of interview styles.
To help students understand the main features of 1:1 interview types, I have created an infographic that  summarises this information whilst simultaneously  modelling how students will need to present their own research for the interview style they are assigned (Phone, Skype, Carousel, Panel, Group, Audition)
Here is my completed infographic: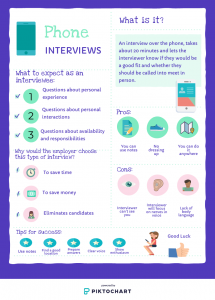 The combination of text and graphics are effective in supporting the learning for a number of reasons:
By using an Infographic to organize ideas, provide background and emphasize key facts it makes it easier for the [learner] to engage in the topic (Vogelsinger, B, 2014).
With visuals used to support the text, the resource is more likely to be recognized and recalled by the learner (Medina, 2008).
It uses headings to break up the inforgraphic and make the data easier to take in (Balliett, 2011)
The infographic supports attention and  minimizes cognitive load (Clark & Lyons, 2010).
It provides immediacy and coherence (Dunlap, J.C & Lowenthal, P.R, 2016)  which will result in student's engaging with the text more.
As far as possible I have ensured that the infographic's visual elements are not decorative but instead used to deliver content vital to the learning content (Dunlap, J.C & Lowenthal, P.R, 2016)
It can be printed on 1 page and uses clear titles to quickly establish the purpose (Dunlap, J.C & Lowenthal, P.R, 2016)
Finally it focuses on just 1 learning outcomes, features of an interview style, (Dunlap, J.C & Lowenthal, P.R, 2016)  to maintain clarity and impact
How I could improve this
Following The Do's and Don'ts of Infographic Design by Balliett (2011), I would make the following changes:
change some of the text for graphics so that I am not missing a single opportunity to visualize data and not relying on typography
Add the percentage/ time using a pie or visual
Use more fun and eye-catching font possibly linked to the topic if possible
Add more of a hook at the start
Change the colour scheme and avoid white as a background
Choose 3 primary colour for more impact
References
Balliett, A. (2011, October 14). The do's and don'ts of infographic design. Smashing Magazine.
https://www.smashingmagazine.com/2011/10/the-dos-and-donts-of-infographic-design/
Clark, R. C., & Lyons, C. (2010). Graphics for learning: Proven guidelines for planning, designing and evaluating visuals in training materials. San Francisco, CA: Pfeiffer
Dunlap, J. C. & Lowenthal, P. R. (2016, September 8). Getting graphic about infographics: Design lessons learned from popular infographics. Journal of Visual Literacy, 35(1), 42–59. https://doi.org/10.1080/1051144X.2016.1205832
Medina, J. (2008). Brain rules: 12 principles for surviving and thriving at work, home, and school. Seattle, WA: Pear Press
Vogelsinger, B. (2014, July 16). Inventing infographics: Visual literacy meets written content. Edutopia. https://www.edutopia.org/blog/infographics-visual-literacy-written-content-brett-vogelsinger
In your post, refer to readings and theory to explain how the combination of text and graphics in your infographic is an effective support for learning. Once you have posted your infographic, review posts from at least three other students and offer your thoughts using the guiding questions above.