Part 1
Here is the Business Card lesson. All tutorials and resources are embedded within the lesson which is hosted on G-Site.
The purpose and summary of the assignment is outlined at the top of the lesson using the SMART criteria
S– Research, create and evaluate a suitable prototype using digital tools
M– Create and evaluate your own business card after critically exploring effective design and content features
A– Explore features; Critically evaluate; Design QR Code; Make a Prototype; Peer Feedback; Critical Evaluation
R– Promote your own brand and portfolio and develop confidence in networking and building contacts
T- 1 Block
Description of the student demographic and learning context
 Digital Communications and Careers Life Explorations is an 8 credit, blended learning course for Grade 11. During lessons the Careers teacher will always be in the physical classroom (although not necessarily supporting or teaching during the digital communication lesson). Digital Communication lessons are taught face-to-face in the classroom and also online via LifeSize and Blackboard. Approximately 60% of lessons are taught online and there is flexibility as to how each lesson will be delivered. All learning outcomes are taught using a variety of digital tools and strategies. The goal of the course is to identify student strengths and transferable skills, develop a portfolio and practice career research with various tools to help plan for a happy, financially secure future. The course is graded cumulatively and students receive the same grade for Careers Life Explorations as they do Digital Communications.
The course is synchronous and each block is 2 hours and 30 minutes long. Due to non-school attenders, student's who are absent due to sporting events as well as I.E.P requirements, lessons need to be able to be adapted to cater for asynchronous online learning. Whilst physical attendance to lessons is compulsory (unless approved absence), there are a number of students who complete this lesson during support blocks or in other locations such as the Ab-Ed room or at home. 
The school district is in the Okanagan Territory and is the 5th largest school district in BC. 10% of students self identify as Indigenous. There are an increasing number of immigrant families residing in the Central Okanagan as well as English Language Learners (ELL) and international students. The school where I currently work is in a low-income neighbourhood and is also the 'host' school for international students. In the classes I teach, approximately 17% identify as Indigenous and 10% are International students.
The learning outcome(s) under evaluation
Research, create and evaluate a suitable prototype using digital tools.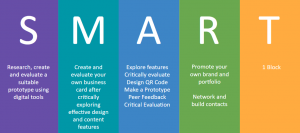 A brief overview of the unit of learning that would precede the assignment
Prior to this assignment, students would have explored their skills, visualized their brand, explored possible career paths and also created a personal network. They would be familiar with publishing work and using G-Sites as well as submitting work in Google Classroom. 
This lesson is a part of the 'Getting A Job'' unit where students create resumes, cover letters, research interview types and then complete a panel interview. The intention is that they bring the resume, cover letter and business card to this interview and write a follow-up email afterwards. The emphasis on this whole course is authentic, real-life learning and so students are expected to personalize the content of their work to the career cluster they previously researched.
Rationale for the media criteria that would be used in the rubric
Students have access to this rubric at the start of the lesson and the dimensions of performance as well as the scaling for assessment will be made explicit to students (Boss, S. & Krauss, J 2010). Formative assessment in the way of questioning, padlets, discussions, think-pair-share and observations will be used throughout the lesson to help me guide student's efforts against the learning objective (Boss, S. & Krauss, J 2010) and reflect-in-action and make changes as necessary.
Students are graded using a 0-4 scale and the rubric distinguishes between the different measurable components that the learning objective is assessing: 'Research, create and evaluate a suitable prototype using digital tools' into measurable components.
Design and Content

assesses a student's ability to

'research'

and apply this to their own

creation

. 

Application of Digital Tools and Digital Literacy

assesses a student's ability to

'create'

their own prototype using

digital tools

effectively.

Critical Reflection

assesses a student's ability to

evaluate

their prototype

Work Ethic assesses a student's ability to demonstrate a professional tone which is an expectation of all lessons. This is reported on their interim and final reports as a work habit grade which includes E (excellent), G (Good) S (satisfactory) and N (needs improvement).
References
Boss, S., & Krauss, J. (2014). Chapter 7. In Reinventing project-based learning: Your field guide to real-world projects in the digital age (pp. 61–93, 95–126). International Society for Technology in Education. https://ezproxy.tru.ca/login?url=https://search.ebscohost.com/login.aspx?direct=true&db=cat03106a&AN=tru.a810704&site=eds-live