Summary of Results from TPI
After completing the Teaching Perspective Inventory, my results came out as shown in the graph: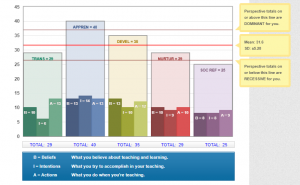 Results indicated that I was dominant in Apprenticeship and recessive in Social Reform.
My back-up was Developmental. I scored equally for Transmission and Nurturing. 
I had high High internal consistency (sub-scores within one or two points of each other) for all categories except Transmission. 
Consistency Across Perspectives was identified as the highest Intention sub-score was within my dominant perspective (Apprenticeship).
My Beliefs were strongest in my 2 highest scoring categories too.
My Actions were most dominant in Apprenticeship but also in Transmission and Developmental.
Not surprising, given the trend, my lowest Belief score was in Social Reform.
Reflection
Apprenticeship
These results are actually pretty accurate. Apprenticeship highlights effective teaching that requires that learners perform authentic tasks within their zone of development  and this has very much been how the course I am currently teaching has been structured and delivered.Certainly as the course develops, much more independent learning occurs as less face-to-face teaching occurs and more online components are introduced and this changes the dynamics of how, when and what technology is used.
Developmental
My second highest scoring category was 'developmental' and I have always received feedback in observation and performance management of my effective use of questioning to challenge learners and move them forward. I always ask questions that relate to the student's own experiences and potential career paths and thus conduct teaching from the learner's point of view. With regards to how technology supports this, I have been using Google Classroom and GSuite and the text-type function as well as the stream to provide ongoing feedback and challenge students with personalized questions.
Transmission
I is not surprising that Transmission was the joint 3rd preference as not only am I new to Canada and its education system but this course is also new to me. When answering the survey, I used my current role as the example. I believe that if I were to retake the survey but focusing on my past role as Head of Department of English and Media, these scores would be higher as my enthusiasm for the content and mastery of the content was much higher. My being new to the subject and education system in Canada has had an impact in the technology I use. I have initially relied on resources and technology that have been suggested in the handbook. As my experience and confidence is growing, I am being to make more informed choices and personalizing these choices to add more engagement to the lessons.
Nurturing
I also believe the same can be said for nurturing for a few reasons. The expectations of what a teacher should do to support students is radically different than in the UK where student achievement is directly linked to performance management and pay. Thus, the pressure to nurture and support students to get "the best possible grade" is much more prevalent. Additionally, for the course that I am currently teaching, a lot of students view it merely as just "needing to pass" and so student perception, and therefore attitude, does affect the level of nurturing. I initially encouraged all students to try their best by redoing assignments to get the next grade up. I have used various technology tools to help in my quest including google sheets for tracking completed work, breakout rooms in BlackBoard to generate co-constructed criteria and Lifesize to talk to students as a class and 1:1. Unfortunately, it has become apparent that this is not something that students, or co-teachers, are particularly interested in. 50% was a pass and for most, that it 'good enough'. This is a concept that is extremely foreign to me and I struggle with the more laid back attitude than the British Education system!
Social Reform
Finally, Social Reform was the lowest scoring area. Upon reading the descriptor it seems a bit a vague. Perhaps due to the nature of the course, the highly personalized learning path that students undertake to explore their career paths, there are limited opportunities to "challenge the status quo". The course is more about mentorship and supporting a student to self-discover and research. Whilst lessons are taught to the collective, they are still very much focused on individual choices, outcomes and paths. This has been evident in the use of Google Docs to create 'conference' self assessments with personalized targets and evidence . These conferences take the form of a 1:1 discussion where the student leads the discussion and grading of the unit. These conferences have been recorded on webcam/and/or BlackBoard and students have a record of their feedback to refer back to throughout the duration of the course.
Conclusion
The results from my TPI support Tondeur et al's (2017) belief that 'technology integration is still a complex process of educational change'. My use of technology is not only affected by my own pedagogy but also by restrictions imposed by Admin, accessibility as well as my own inexperience teaching this curriculum before. However, it has confirmed that my classroom practice is often adopted by social constructivism approaches with a focus on individual needs and interests. As I reflect back on my teaching over the past 16 years, the increase in using technology (as as result for professional development, access, necessity and want), my classroom practice has definitely adopted more student-centered beliefs. Overall, I agree that as a constructivist, "I tend to use technology that supports the development of 21st century skills" (Tondeur, J., van Braak, J., Ertmer, P., & Ottenbreit-Leftwich, A. (2017).
References
http://www.teachingperspectives.com/tpi/
Tondeur, J., van Braak, J., Ertmer, P., & Ottenbreit-Leftwich, A. (2017). Understanding the relationship between teachers' pedagogical beliefs and technology use in education: A systematic review of qualitative evidence. Educational Technology Research and Development, 65(3), 555–575. doi: 10.1007/s11423-016-9481-2