Draft Online Design Plan (Assignment 3)
Identify a specific educational context
Topic: Career Exploration.
Assess personal transferable skills, and identify strengths and those skills that require further refinement

Analyze internal and external factors to inform personal career-life choices for post-graduation planning

Explore possibilities for preferred personal and education/employment futures, using creative and innovative thinking

Engage in, reflect on, and evaluate career-life exploration
The taxonomy of significant learning (Fink 2003) can be applied here as the activity would address:
Learning how to learn- self-directed learners
Foundations knowledge- understanding information
Application- Critical thinking in evaluating suitability of the job
Integration- connecting ideas to their context
Human Dimension- learning about themselves and their skills with relation to job suitability
Caring- developing interests
level: Grade 11 in a blended course (Careers and Digital Communications). Can be face-to-face or online. Plus opportunity for synchronous and asynchronous.  All academic abilities as well as varied digital literacy. Students would have explored some ideas in Careers 10.
Designing a Course (Fink, 2003)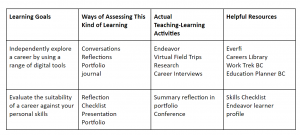 Technology: Lifesize, Blackboard/Zoom, Google Classroom, G-Sites, G-suite apps, YouTube/Skype/ OR alternative virtual field trip access (link to video or website)
Duration: 2-3 block (each block is approx 2.5 hours)
Review of Initial Design Phase (Fink, 2003)
In-Depth Analysis of Situational Factors
2. Significant Learning Goals
These outcomes are student-centered, focused on specific cognitive processed and used action verbs (Carleton University, 2017)
By the end of the unit you will be able to:
Independently explore a career by using a range of digital tools
Evaluate the suitability of a career against your personal skills
3. Educative Feedback and Assessment
Authentic, challenging, coherent, engaging, respectful, responsive, rigorous and valid (Sewell, J., Frith, K.H., &Colvin, M.M (2010).
Formative- Instant feedback with the learner profile and skills and then self reflection/critical evaluation against skills checklist. Teacher/peer questioning after initial virtual field trip. Self reflections and possible one sentence summary. FIDL applied.
Summative- Grading rubric used to assess final critical evaluation.
4. Active Teaching/Learning Activities
Students complete a learner profile using the first section of the Endeavor Course in Everfi. This identifies their learning style as well as possible skills they have.
They can also use the Transferable skills checklist they completed in a previous lesson.
Once completed, they brainstorm possible jobs that could highlight these skills and learning profile. This aligns with the Learning Outcome 'Evaluate the suitability of a career against your personal skills' as it identifies what these skills are and gets them to initially consider careers that might support these.
Students then participate in a virtual field trip where they interact with the host (some are live streamed and some are asynchronous). This aligns with the Learning Outcome 'Independently explore a career by using a range of digital tools' as students have to individually identify their chosen career for case study and use the tools associated with that virtual field trip (VR, SKYPE etc) to explore it.
Afterwards they critically reflect on the experience and the suitability of the job/ research against their learner profile, interests and skills. This will be presented on the G-site using digital tools of their choice.
5. Integration/Alignment
Using the Final Check and Review of Initial Design Phase (Fink, 2003), the course design rates 'High'. In order to ensure success, I will need to consider ways to engage and motivate students who are struggling to identify possible career paths as well as students who are taking the course asynchronously.
References
Carleton University. (2017). the role of learning outcomes [Video file]. Retrieved from https://mediaspace.carleton.ca/media/The+Role+of+Learning+Outcomes/0_2uxpre9y
Fink, L. (2003). A self-directed guide to designing courses for significant learning . Retrieved from "http://www.deefinkandassociates.com/GuidetoCourseDesignAug05.pdf"
Sewell, J., Frith, K. H., & Colvin, M. M. (2010). Online assessment strategies: A primer. Journal of Online Learning and Teaching, 6 (1), 297. Retrieved from "http://jolt.merlot.org/vol6no1/sewell_0310.pdf