Situational Factors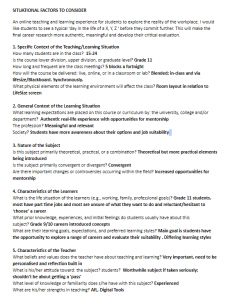 Here is Worksheet 1 
How might the information gathered through this step help you to design your online learning experience?
This guide is useful in helping to consider students, staff and stakeholders.
Specific context- helps to process the feasibility of this design within this context and predict any potential barriers to learning
General context – take a step back and look at the bigger picture to ensure that the activity supports the subject as a whole and not just teacher's preference
Nature of the subject – consider emerging ideas and trends that may need to be considered and applied
Characteristics of learners- foresee possible barriers to learning and consider prior knowledge and student needs to increase motivation.

Each learner is unique and their interaction of different experiences and search for personal means results in every learner are different from everyone else (Bates, 2015).

Characteristics of the teacher- evaluate how likely the teacher will invest in this activity
How do you think the situational factors might influence design for the online environment versus the face-to-face classroom?
Online learners can respond differently than in the face-to-face classroom. Lack of relationship with the teacher, inability to detect 'tone' in written feedback as well as a reliance on written instructions to communicate meaning all affect how a learner may respond. When planning an activity for an online environment, as opposed to when I am int he classroom teaching face-to-face, I always consider the characteristics of the learners and how they may respond to the task without my physical presence. This ultimately affects my pedagogical choices (I might use Lifesize so they can see me, use Camtasia to film a tutorial etc, Blackboard to develop feedback and collaboration etc)
References
Bates, A.W. (2015). Chapter 2: The nature of knowledge and the implications for teaching. In Teaching in a digital age: Guidelines for designing teaching and learning . Vancouver BC: Tony Bates Associates Ltd. Retrieved from "https://opentextbc.ca/teachinginadigitalage/chapter/section-2"